Toronto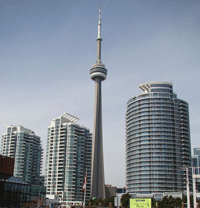 CN Tower
Toronto is a city of culture, art, and diversity.
It is a city of neighborhoods, local hang-outs, unexpected run-ins with friends, new and old. The University of Toronto is the foundation of the Annex and Chinatown neighbourhoods, where students, staff, and faculty are an integral part of these communities. Our big city is a patchwork of people and places that are quilted together by transportation options to connect you to your next adventure. Whether biking along a bike lane, riding our public transportation system known as the TTC, or hailing a taxi, our wonderful winter weather won't impede your exploration. Each neighborhood within this city has its own dynamic and personality. We invite you to discover your Toronto.
Recommendations by some local Torontonians: M.M.
Recommendations by B.S. native-born Torontonian:
Recommendations by K.S.
Recommendations by E.S.
Recommendations by A.B.
Recommendations by I.S.
Recommendations by A.F.
Recommendations by N.S